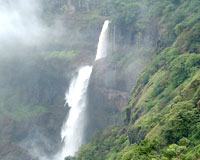 An evergreen plateau located amidst the Western Ghats of the Sahyadri mountain range, Mahabaleshwar is one of the largest hill stations in the state of Maharashtra. With its resplendent valleys, cascading waterfalls, placid lakes, ancient temples, cobbled streets and large vistas of greenery, Mahabaleshwar is a home to various spots of instantaneous tourist attractions. Be it the spectacular lookout points or the spiritual ardor in its air, Mahabaleshwar remains one of the most popular hill resorts of India. Here are some of the hot-spots that can be included in the sightseeing tours of the place.
Mahabaleshwar Temple
The hill station derives its name from the presiding deity "Mahabali", of this famous Hindu temple. Dedicated to Lord Shiva, the temple is girdled by a five feet tall stone wall on its sides and is divided into a God-chamber and a central hall. The main site of worship is a 'lingam' (black stone), considered to be the manifestation of the Divinity. A landmark of Mahabaleshwar, this temple is frequented by locals and religious tourists throughout the year.
Waterfalls
The various waterfalls flowing through the heart of the place form a crucial part of its sightseeing tour. These gurgling waterfalls heighten the beauty of the place and are a source of instant attractions among the tourists. Lingmala waterfall flows down a steep hill and provides an enthralling effect with its illuminating silver water. Dhobi and the Chinaman's waterfalls are two other major waterfalls and picnic spots, and are at their best during the monsoons.
Venna Lake
Venna Lake is a popular lake of Mahabaleshwar, because of its verdure surroundings and sparkling water. With a length of 2.5 m and the availability of boating and fishing facilities, the lake allows people to enjoy the placidness of its water, while feasting on nature's bounty. There are also strawberry stalls that surround the place, with ponies trotting nearby. This makes it very popular among tourists, especially children.
Wilson Point
Mahabaleshwar has about 30 major lookout points that offer breathtaking view of the entire landscape, with Wilson being the most popular among them. It is the highest point of the place and is located at a height of 1438 m (4710 ft). It has three observation towers that offer spectacular views of the entire place and the valleys below. Also known as the Sunrise Point, the place is well-known amongst the locals and the tourists for offering splendid views of the sunrise and sunset.
Other Attractions
Some major lookout points that offer views of the landscape from different perspectives are the Echo Point, Elphinstone Point, Connaught Peak, Marjorie Point, Kate's Point, Arthur's Point, Bombay point, Gaolani Point, Panchgani Point, et al.