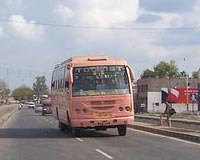 With its excellent roads, air linking and railway connections, Mahabaleshwar is easily accessible from different parts of India and heralds a lot of tourists to its bosom every year. People trot to this place from all the major cities of India, and abroad, to embalm themselves in its glory. Be it religious pursuits, getting a fresh lease of life or giving new wings to one's romantic life, Mahabaleshwar remains one of the most-favored tourist destinations of Western India. If you are wondering how to reach this magical city, just go through this article. It provides information on some of the most convenient and easiest options that are available for reaching the place.
By Air
Pune, located at a distance of 120 km is the nearest airport. If you plan to travel to Mahabaleshwar by air, you can board a flight till Pune, and then easily avail a bus, taxi or a private car from the Pune airport. The airport has various facilities within its premises for tourists traveling to the place. State operated buses are also easily available from Pune. Even private tour-operators provide luxury/ non- luxury bus services to Mahabaleshwar. You can even hire a vehicle of your choice from the airport, for the entire duration of your stay.
By Train
The nearest railhead from Mahabaleshwar is Wather, located at a distance of 62 km from the city. But if you choose to travel to Mahabaleshwar by train, the Pune railhead, located at a distance of 120 km, is comparatively more convenient than the Wather station, because of its better connectivity to Mahabaleshwar. People traveling by train can get down at the Pune railway station to reach Mahabaleshwar. Private tour operators provide buses, mini-buses, taxis, etc, which are easily available for tourists outside the Pune station. One can also avail the state-operated buses that shuttle between Pune and Mahabaleshwar.
By Road
From Mumbai, Mahabaleshwar is 285 km (via Pune route) and the distance is about 247 km (via Mahad route). There are regular state-operated buses that travel to Mahabaleshwar from the nearby cities of Pune and Mumbai. Private tour operators also provide various luxury/ non-luxury, AC/Non-AC, Deluxe and Volvo buses and other vehicles to and from Mahabaleshwar. You can even drive your own vehicle to Mahabaleshwar, enjoying its idyllic beauty, as the roads are excellent. It takes around 5 hrs to reach Mahabaleshwar from Mumbai by road.